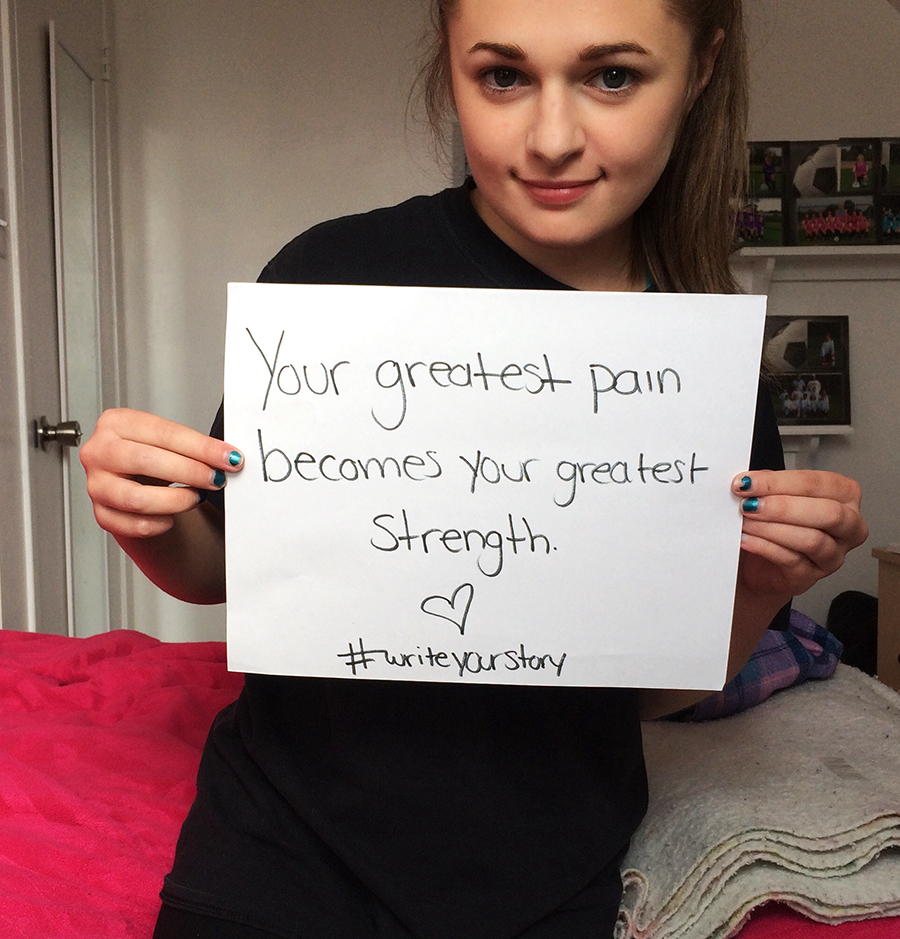 I recently had the pleasure of e-meeting the incredibly selfless and beautiful human that is Sierra. She has made it her life's mission to spread the message of love, acceptance and hope to those diagnosed with a rare bone disorder called Osteogenesis Imperfecta (OI). Being an OI fighter herself, she has first-hand experience with the difficulties those diagnosed with OI can face. From concussions, to anxiety, to panic attacks, to constantly being in hospitals for breakages, Sierra has been through alot but her motto strongly remains: "My bones may be breakable, but my spirit isn't".
It is my hope, that through the sharing of these stories, anyone reading who cannot yet see the light in the darkness of their own struggles can gain some insight and know that they are not alone.
An Interview with Sierra
Where did you grow up? What was your childhood like? What did you think your life would be like when you were older?
I grew up in a small town in Canada. My childhood was full of constant battles with myself and others, doctors appointments and hospital visits. I'm 16 now, and as a child I always pictured myself the happiest I could be. As I continue to grow up, I learn the true meaning of life and not to take anything for granted.
How has your life been different than what you'd imagined?
I would have never pictured myself as who I am today. I went from being a shy kid with zero confidence, to becoming a happy, positive teenager by spreading awareness to help better the lives of others.
What's the most difficult thing that you've ever had to deal with? How did you overcome it?
I was born with Osteogenesis Imperfecta, also known as brittle bone disease. I've been in and out of hospitals, ambulances and treatment centres, and 2015 was my hardest year yet. I got into a bad dirtbike accident that could've killed me. I got my 6th concussion, a neck injury, a broken nose for the second time, damaged nerves in my mouth, and shattered + fractured my left elbow. I now have post concussion syndrome, and have 2 screws holding my elbow together.
What have you liked best about your life so far? What's your happiest or proudest moment?
My life has been a roller coaster. Something that I've liked best is the fact that I'm able to be myself and be happy, something I've struggled to do due to the fear of my friends, peers and strangers. My proudest moment was sharing my story and being able to recover from my accident. I'm still in the recovery process, but nobody suspected I would've came this far.
What are the most important lessons you've learned in life?
One of the most important life lessons I've learned is never take your life for granted. All is takes is one accident, one day, one second to change your life around. Everything you do should be based off of your happiness, because you never know when the one thing that makes you the happiest could be taken away from you.
How do you define a "good life" or a "successful life"?
A good life to me is a life that makes you feel like you belong, like you've done something good. Being happy, and enjoying your life is what makes a successful life. No amount of money can replace your happiness. If you're going through life living it to the fullest, doing what you love and achieving happiness, then I'd say you've had a pretty successful life.
Anything else you would like to share?
Although OI is incurable, I get treatments every few months to help with pain and strength. Due to all the hospital visits and rough experiences I've had, I've also been fighting various anxiety disorders.
To see more facts about OI as well as some great inspiration, head over to Sierra's website at http://www.oiawareness.wordpress.com/ and make sure to follow her on Instagram @sierrabadgley.
Have a story to share?
Please let me know here.