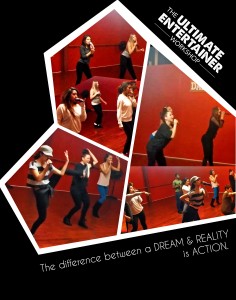 I have always felt it is important to become a better dancer so that I don't look like a stiff weirdo on stage during my performances. Besides just singing and dancing, there are things like stage presence and general performance skills (like working the whole stage, audience engagement, etc.) that are important to learn as well.
Many times I have worked out the choreography for a show, but when it was "go-time", I wasn't as comfortable or as natural as I would like to be. The bottom line was I didn't practice doing both at the same time enough.
I love Dancing, and I love Singing, but when I combine the two, the results are…interesting to say the least.
Out of curiosity I tried to find a class that incorporated both singing AND dancing so that I could improve my overall performance skills.
I found that I could join dance classes, but I wouldn't be able to sing during them, at least not full out like it would be in real life (important). I also thought about singing while jogging or practicing at home, but soon realized that if I am not doing this in front of an audience (even if it is just classmates), then I would not get the "real-world" experience of doing both singing and dancing in front of people.
After extensive searching, I wasn't able to find a single class that encorporated both singing and dancing. A mainstream class like this simply does not exist.
So I went on the hunt…
I reached out to my network of friends and colleagues and ended up connecting with the amazing Jaami Waali-Villalobos. Having been on tour as a dancer with Wiz Khalifa, Miguel and other famous artists, she has real world skills to bring to the table. Through creative collaboration Jaami has helped to bring The Ultimate Entertainer Workshop to a whole new level.
You can check out the class here: www.dancingsinger.com
And if you live in the San Diego area stop on by to see what it's all about!