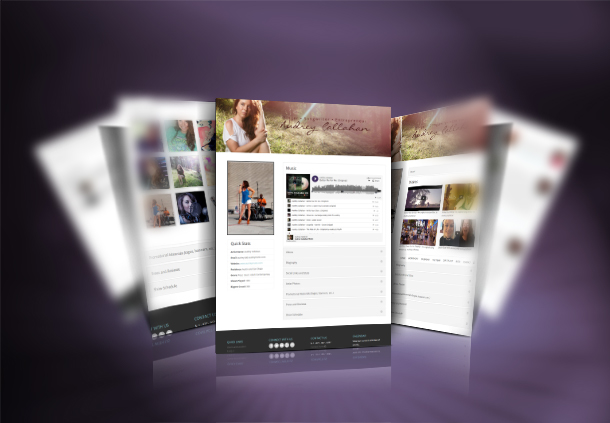 Having your own branded and professional music website is one of THE most important steps you can take in your music career. This is also one of the hardest things for singers to come by as 1. They're expensive and B. it seems an impossible task as a non-coder.
Well I'm here to tell you that you can do it! And for under $100 bucks to boot ;)
My main source of income is actually web development so I'm not knocking the web designers out there. The moment anyone has the budget to leave website building to the professionals DO IT. There is a lot of business savvy, design skills and marketing knowledge that goes into making an effective website, but that doesn't mean you should be in "Coming Soon Land" until you can afford one.
Disclaimer: Please note that some of the links below are affiliate links and I will earn a commission if you purchase through those links. I have used all of the products listed below and recommend them because they are helpful and are companies that I trust. I appreciate your support on using my affiliate links to purchase any products that I have recommended. This helps ensure that I can keep bringing you great content ;)

So here we go. 4 steps to building a music website as a recording artist on a budget:
1. Decide on a Domain Name/Artist Name
Think long and hard on your domain name.
If you have already released music, GREAT. You can just pick a domain name that matches your artist name. If the domain isn't available try adding the word 'music' to the end (audreycallahanmusic.com) or the word 'official' (audreycallahanofficial.com).
If you have yet to release music, do some research. When I first released my music into the world I released it just under my first name "Audrey". This was a TERRIBLE idea. Not only were there other "Audrey's" on iTunes making it impossible to differentiate me, but it made searching for me that much more difficult.
And you can't just "update" your name on these platforms. You need to delete and re-release your music meaning you lose any reviews or sales figures you've accumulated.
It is also difficult for digital retailers to differentiate between artists with the same name so they end up crediting your work to the most popular version of you. No bueno.
Check itunes and anywhere else you plan to distribute your music for your artist name so you know what you're up against.
Always use either a unique name or a last name.
2. Purchase Domain Name and Hosting
Once you've thought of some possible names, click here to go to Hostgator to see if your domain name is available and purchase hosting.
Select the Hatchling Hosting plan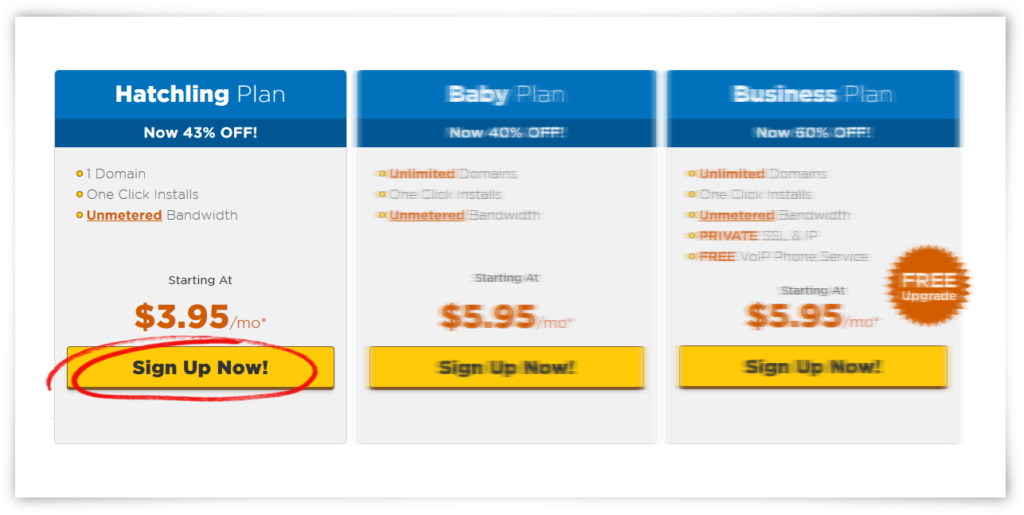 Plan Settings:
a. Enter your domain name
b. Pick payment plan. I'd suggest doing 36 months which is paid in one lump sum instead of monthly, but it'll save you quite a bit of money in the long run.
c. Uncheck all the boxes for extras
d. Submit!

3. Install WordPress
Now that you've purchased your domain name and hosting at HostGator you'll need to install WordPress. WordPress is the platform that will serve as the foundation of your website. It's highly customizable, user friendly and a cinch to install. It's what this very website is built on and what all my websites are built on. I love it. You'll love it. And it's free! We love free.
To get started, check your email for your HostGator confirmation email. You will receive two emails. The one you want will look like this. Note the subject line: "Your Account Info"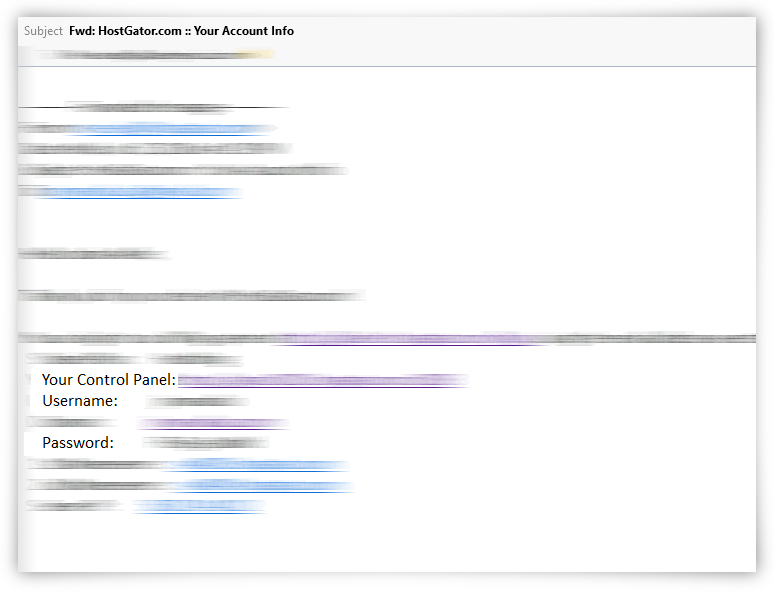 Go to your control panel via the link in your email. (It is always yourdomainname.com/cpanel) 
Enter the username and password from the email to gain access.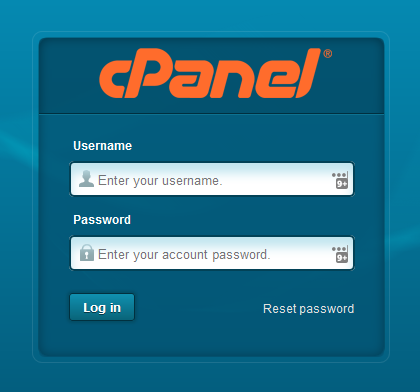 Select Quick Install
Once inside your cpanel, scroll aaaall the way down to the bottom of the screen and you'll see a little icon called "Quick Install" under the box titled "Software and Services".


On the next screen, select WordPress from the top navigation menu and then "Install WordPress for Free"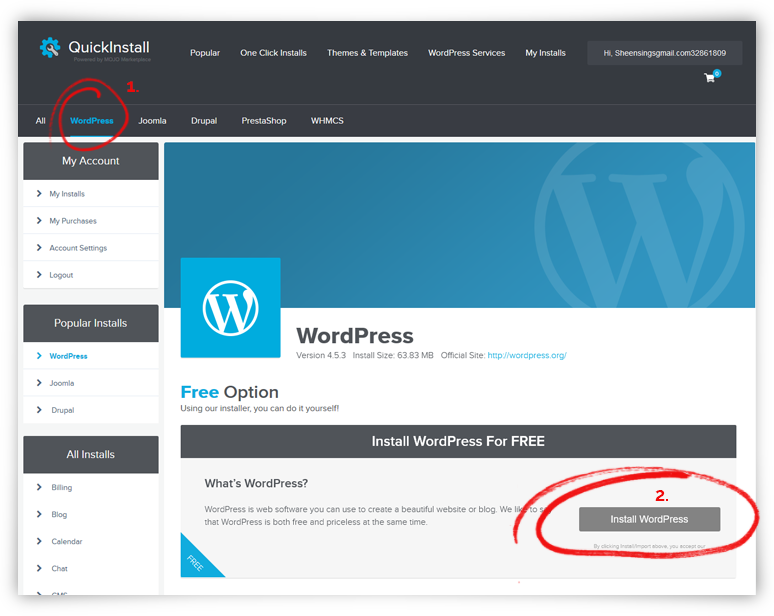 Select your domain name from the dropdown box and leave the install field blank. Fill the rest in and hit "Install WordPress.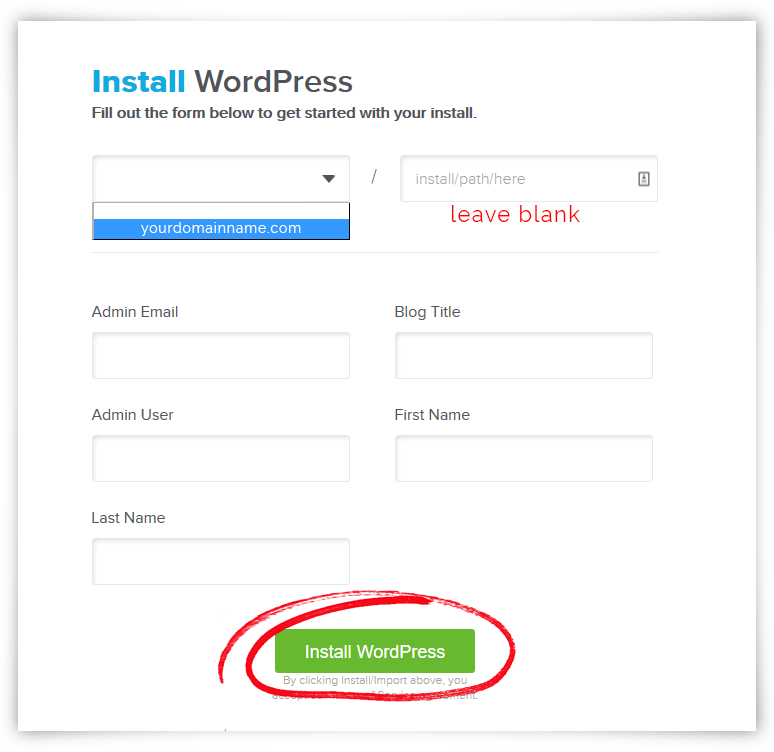 Once the install is complete you'll see a success bar at the top.
Click "view credentials" in the upper right to access your shiny new website. I recommend creating a username and password document to store these and other business related credentials you'll be gathering down the road.

Type in the Admin Area URL from above and you'll come to this WordPress login screen. Enter your username and password from the above step to gain access to your websites backend.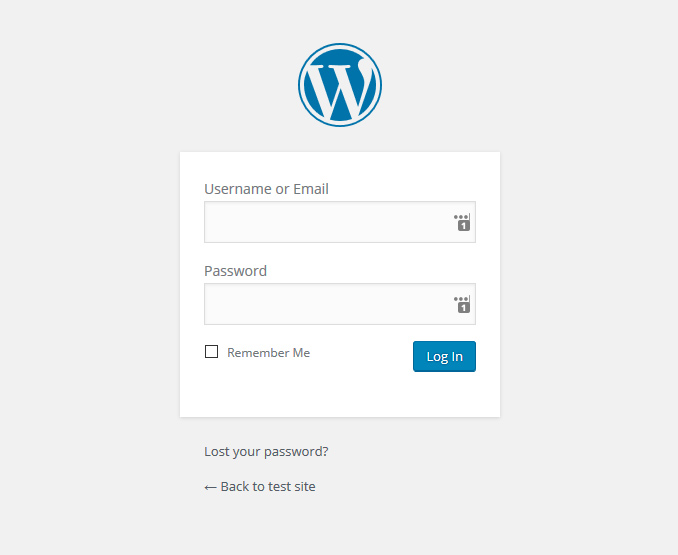 Congrats you are officially a website owner! Now to make it pretty….
4. Get a music website theme from ThemeForest
Click here to view all the music related WordPress websites on ThemeForest that are also WooCommerce compatible (very important).
Whether you get a music themed website is up to you, but what you MUST do is to make sure that your theme is eCommerce enabled. Meaning you can sell stuff. Trust me, you want to sell stuff. You NEED to sell stuff.
I'll be showing you how to set up your stores in a separate tutorial, but for now just make sure you get a WooCommerce enabled WordPress theme.
Here are some quick links to recap:
Things to keep in mind when choosing a theme:
Check the last date the theme was updated (found in the right hand column of the theme page)
Is it responsive? Most times it says this front and center, but just in case, shrink your browser window while viewing the website. Does it react accordingly and operate well on small screens?
Click the comments tab, is the theme Author active in replying to the comments users leave?
Click the suppport tab, is there support available for the theme?
Installing the theme:
All themes are different and come with their own set of instructions for installation. In most cases it is just a matter of uploading the theme and importing dummy content to get you started. Contacting the theme author for installation help would be your best bet.
BONUS TIP: Delete unnecessary plugins
Before you install your theme, I highly recommend deleting all the plugins that come pre-installed. Too many plugins can slow down performance and it is best to start with a clean slate before installing a new theme.
Leave Akismet as this helps with spam. All others can go. Simply deactivate them and then delete.